on
February 20, 2012
at
4:10 pm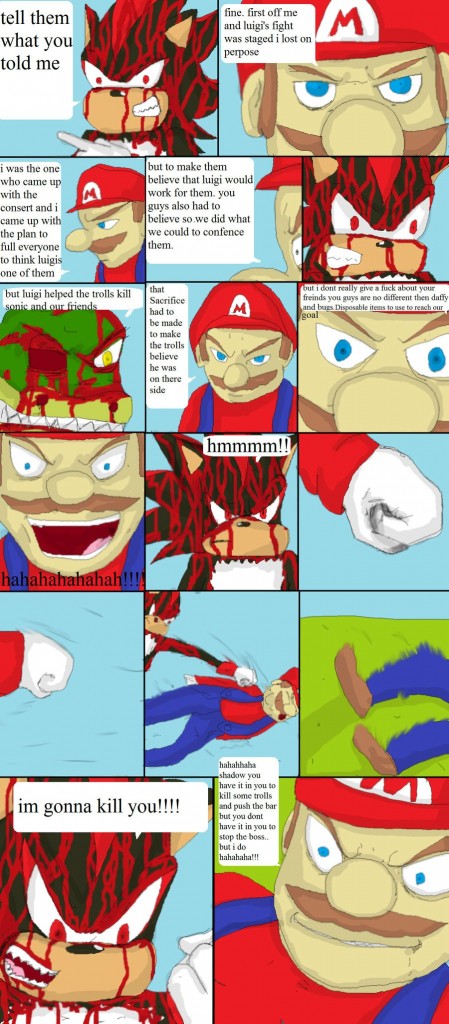 Shadow: tell them what you told me
Mario: fine. first off me and luigi's fight was staged i lost on per pose
Mario: i was the one who came up with the consert and i came up with the plan to full everyone to think luigis one of them
Mario: but to make them believe that luigi would work for them. you guys also had to believe so. we did what we could to confence them.
[[Shadow grows angry]]
Vector: but luigi helped the trolls kill sonic and our friends
Mario: that Sacrifice had to be made to make the trolls believe he was on there side
Mario: but i dont really give a fuck about your freinds you guys are no different then daffy and bugs. Disposable items to use to reach our goal
[hahahahahahah!!!!]
Shadow: hmmmm!!
[[Shadow makes his hand into a fist...]]
[[And takes a swing...]]
[[Hitting Mario in the face...]]
[[And knocking Mario to the ground]]
Shadow: im gonna kill you!!!!
Mario: hahahhaha shadow you have it in you to kill some trolls and push the bar but you dont have it in you to stop the bos.. but i do hahahaha!!!